My name is Andrejs. Andrejs the Bear. I have been beside today's protagonist and his wife since 1966. According to him, I could be his spirit. Or alter ego. His wife Ausma thinks I'm her little bear. I'd say that we are eternal friends. I have seen the days when he writes, when he exercises, when he roams, when he receives guests, when he fools around. Being himself in all his manifestations.
Which one should I tell you about?
I am talking about Imants Ziedonis – Latvian poet, – no less than a prodigy, a brilliant labourer in fields of culture and society. Even after his passing, he still remains one of the favourite poets of our people. He wrote poetry, prose, journalism, epiphanies and fairy tales. He wrote to adults and children. His works and personality came into public eye during 1970s and 80s. He could write so that people liked it. He wrote about the search for the free spirit, going one's own way and the desire for individualism despite the totalitarian system of the time – the USSR. His texts were deep and philosophical, yet people understood them. They were based on folklore, Aesopian.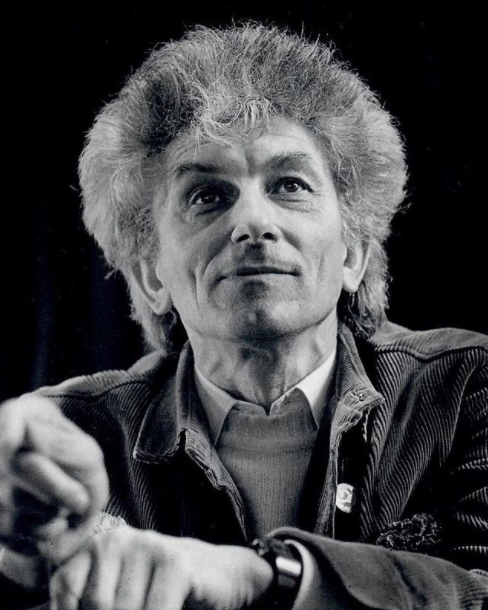 The poet was born in the interwar period – in 1933, in a fisherman's family by the Baltic Sea. He grew up and studied in a nearby coastal village. Came from a simple working environment, no stranger to physical labour. Although he dreamed of becoming a gardener, he completed literature studies in Riga. Then also in Moscow. Since the mid-sixties, he was mainly involved with books and literature, and sometimes also wrote screenplays for feature films, documentaries and cartoons.
For twenty years, since the mid-seventies, he led a semi-secret group – Great Tree Liberators. It was a group of bright people from Latvian culture, art and science circles, socially active people, who regularly set out to tidy Latvia. To liberate. They went to labour physically and talk freely. It was also the beginning of the Green Movement in Latvia and a symbolic anti-state activity. It strengthened Latvians' historical memory, self-confidence, patriotism, and promoted rising of new intellectuals.
During the restoration of Latvia's independence, Latvian Culture Foundation was established to save and preserve the Latvian cultural heritage. It had suffered profoundly during the Soviet period – the crafts associations, Latvian homesteads, architecture, names of places and houses. All this strengthened the historical memory of the nation and peoples' sense of belonging to their country. The poet urged creation of historical and memorial sites by our River Daugava, helped promising young stars to rise in skies of culture, and lent a hand in creating children's folklore movement.
In 1991, Imants Ziedonis as a deputy of Supreme Council voted for the restoration of Latvia's independence.
During the final years of his life, he asked that the summer house named Dzirnakmeņi – in English -, Millstones –, which he built together with his wife, should be turned into a museum. He wanted it to be a place where people come not to talk about him, but about his IDEAS. He wanted a museum, a house of muses, a centre of creativity, where people come to get to know themselves, the world, strengthen their Latvianness and spend time meaningfully.
In February 2013, few months short of his eightieth birthday, Imants Ziedonis passed away.
The museum envisaged by Ziedonis was founded in 2015. It is one of the stopping points for a vast network of roads throughout Latvia. Ziedonis Library has been established, a new path in non-formal education paved by creating "Ziedonis Class", a tourist route around Latvia has been mapped and other new hiking routes devised, a cultural potato field has been created in Kuldīga, and "Potato Field Radio" broadcasts in dedication to the literary work of Imants Ziedonis, "Kurzemīte".
My story of today was just an introduction, a prologue about my friend Imants Ziedonis. I will quote him: "Boys, this trip will be long and wild!". And I beckon you all – follow me!